Baltimore Ten Miler- What goes up must come down!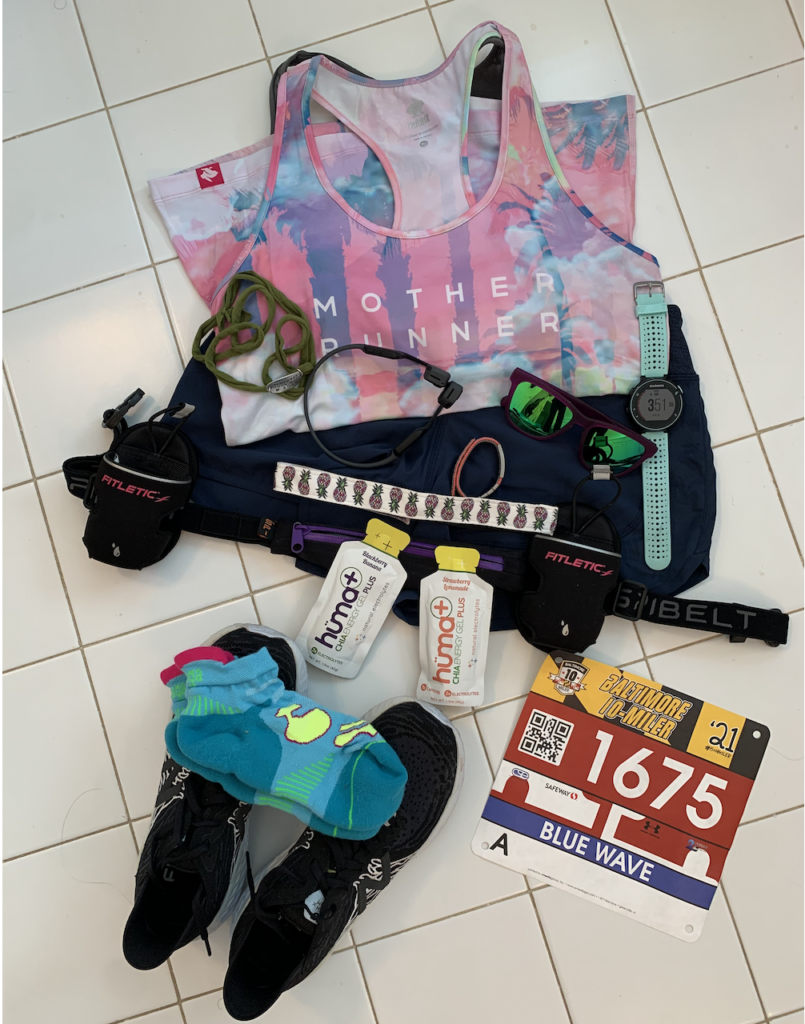 In the past all my races have been planned fairly for in advance. The Baltimore Ten Miler was a different story. Ironically, ten days before a friend politely twisted my arm to sign up. Honestly, there wasn't much twisting, I was happy to sign up for an in person race, BUT I heard the course was going to be brutal! It's fairly hilly where I live and do my outdoor runs so in my mind I was thinking how hilly could it be? Famous last words! I opted not to drive the course. Part of me was afraid if I knew what was coming I would change my mind. I figured that once I had the adrenaline and people around me a tough course wouldn't seem quite so hard.
The beauty of this race is that it was literally ten minutes from our house. Seems like that theme of ten keeps coming up again and again. This was one of the reasons I was quick to do the last minute registration. You can't beat the convenience of a close race! As with any race we had to get there early to beat the traffic and road closures. My amazing husband and boys came along to cheer me on. Yes, with a 5:00 AM start on the Saturday morning after the last day of school they all got in the car to come along! When I first started racing I completely underestimated the value of having support at the finish line. In an attempt to make things easier I was always quick to say that I would go alone so my husband wouldn't have to juggle to boys waiting for the race to start, me to actually run the race and then navigate the post race madness. But I quickly learned how nice it is to have them there. I've made it a habit to call a mile out just to say I'm getting close and they can be on the look out. Having family support is HUGE. And I would find out during this particular race how important it was for them to be waiting for me at the finish line!
The other great thing about this particular race was that parking was close to the start and finish!! (win!) The start and finish were at the same place (win)! So the boys got to experience the start of the race vibe. The partially got to experience this when I ran the Baltimore Half marathon but that was nearly two years ago. Also this was a much smaller race, so they got to be in the mix of things. They saw how everything was set up for pre-race. Last minute packet pick up, the long lines at the porta potties, the runners warming up. They got to see how the groups were going to line up to go to the start and the police getting ready to. They even got to meet the Police Chief. It was interesting to see the start through their eyes. We strategized for the best place for them to see me start and then to see me finish. It was a nice way to ease back into running in person.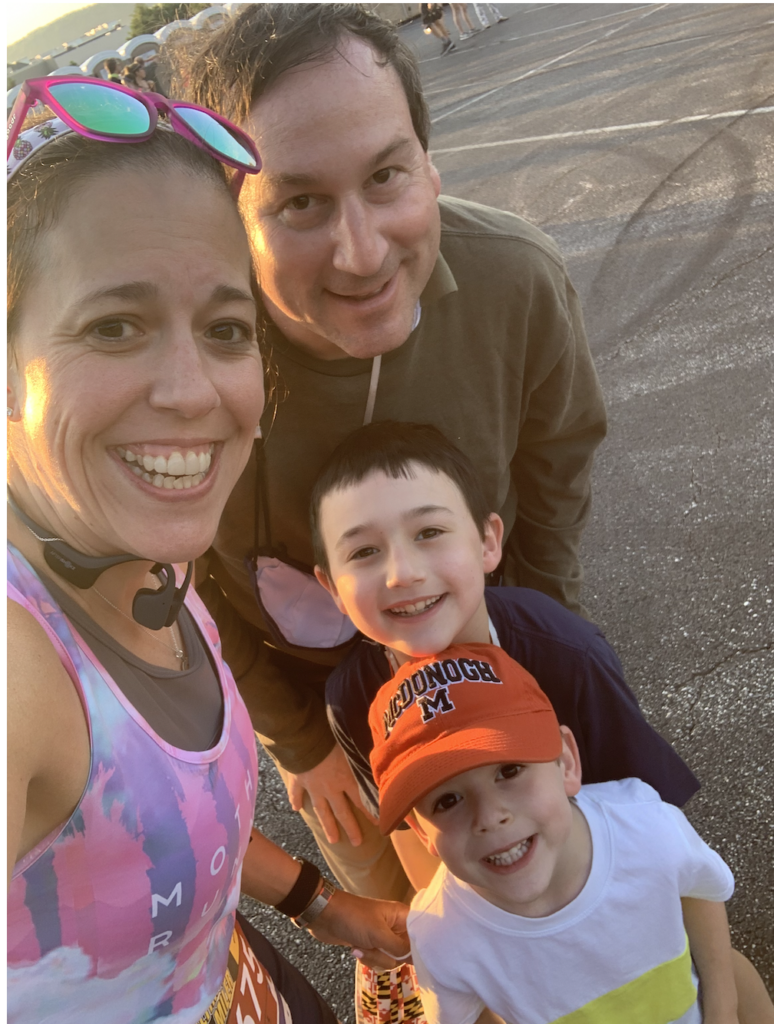 Over time I've learned that I'm a cold weather runner. I thrive in high 40 to 50 degree weather for running and racing. This means that in the alternative warmer weather running/racing tests my body a little bit differently. I must have checked the weather 100 times leading up to race morning. The temperature and humidity growing each time I checked. Why do I keep checking when there is nothing I can do about it?? Ultimately it was nearly 70 degrees with 85% humidity at race time. Yuck! I opted not to wear my Camelbak because I find it somewhat claustrophobic and opted for my Spibelt with two 6 ounces water bottles. There were refueling stations along the way if I needed them. (I didn't). I didn't because I probably didn't drink enough water during the race. I generally don't drink too much when I run, but I barely drank 6 ounces over 10 miles. Given the temperature and humidity I should have drank more. This is not the first and I'm sure it won't be the last time I saw I should have drank more during a race.
Ready- set- go! To fully understand this race- getting a handle on the elevation gain is important. Take a look at the elevation gain as according to my Garmin watch: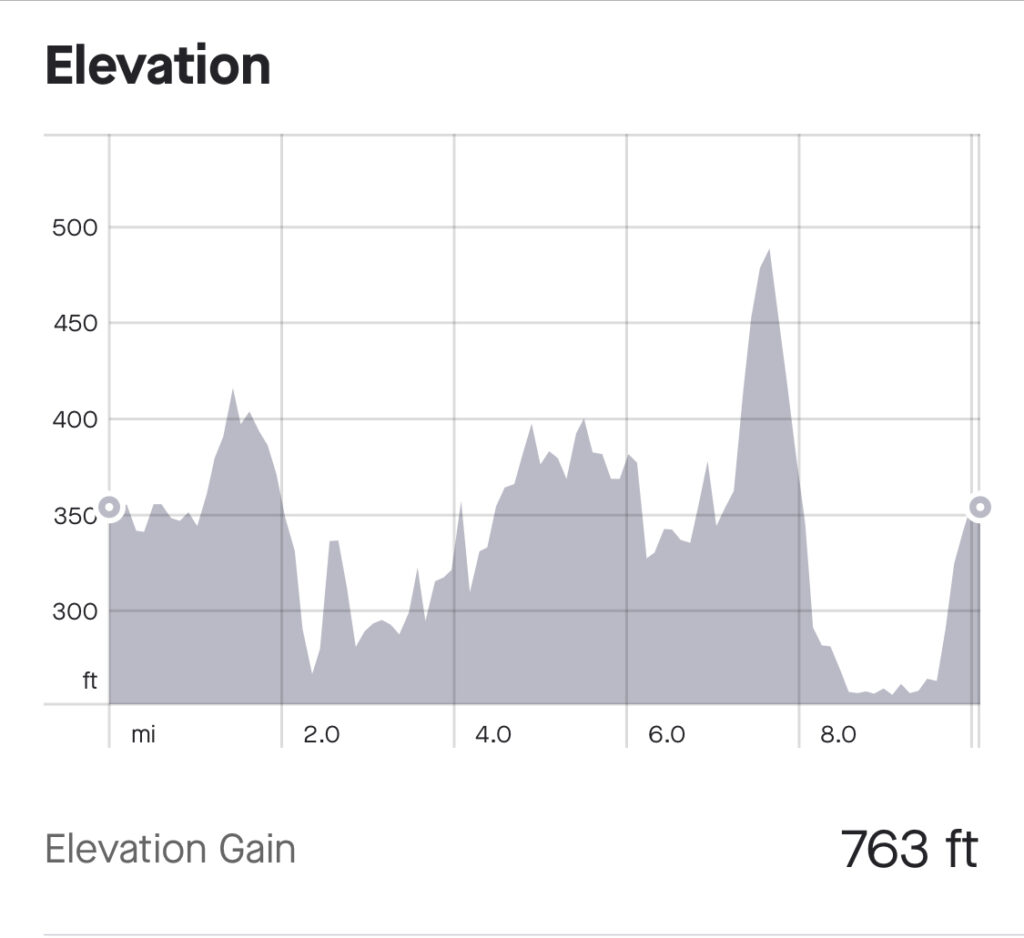 My pace for the first four miles was right on point to faster than I wanted it to be- 8:02, 8:09, 8:11, 8:29. Mile 5 was a bit slower at 8:55. Which makes total sense looking at the elevation change. Mile 5 I had a HumaGel pouch- caffeinated with double electrolytes. I knew that between mile 7 and 8 that there was going to be a monster hill so I wanted to get the pouch into my system to have a little extra oomph for what was certainly going to be the hardest part of the course. Mile 6 back to target pace at 8:26. Mile 7 a little slower at 8:51 and then take a look at the elevation game friends. At mile 7.5 the hill/mountain almost broke me. My heart rate was CRAZY high and I knew there was no way I could run the hill. So I power walked. It was at that moment I knew that my overall race time wasn't going to be where I wanted it to be. But I also knew that I had to walk to regulate my heart rate and try to bring my core body temperature down just a bit. So mile 8 was a slow 9:50. Mile 9 back at target pace range 8:34. But then you see that dip going up to finish the race, I was toast and had another slower mile at 9:27. But then I managed to run in for the last tenth of a mile or so.
So what was I thinking when I felt like the course was breaking me? I remembered my training. I knew that I had the ability to go the miles, but that I had to factor in that the terrain is a major factor in overall success. I know I can run way more than 10 miles, but I also know that I have never run this route before and by golly it was HARD. Therefore I couldn't compare apples to apples in regards to time. I was thinking that my amazing husband and boys were waiting for me at the finish and I needed to finish for them. But I also knew that the only one who cared about how quickly I finished was me! All they cared about was seeing me finish. I could have finished dead last and they would have been just as proud of me. I also tend to forget how far I have come in basically two years time. That two years ago, the first time I ran ten miles I was barely hitting 10 minutes per mile. I've gotten stronger and faster. I also underestimate my abilities in comparison to my peers. As in, I assume I'm so much slower than everyone else. You have a lot of time to think when you are running ten miles. My husband's comeback when I doubt myself will always be, you ran a marathon by yourself! He's right- if I can do that, I can do anything- including some crazy hilly course. Funny thing is the Baltimore Ten Miler is moving back to the City next year. I kind of wish they would keep it here. You know you are delusional when you are trying to figure out how to run the course that nearly broke you just the day before.
The day after as I write this I am surprisingly sore in ways that I have never been before. Interestingly enough the up hills for the most part don't bother me. Except of course the one at mile 7.5 which was more like a mountain. I'm not very good at letting gravity take it's course on the downhills. So my quads are KILLING me today!! What goes up, must come down and apparently fighting the coming down has tested muscles that haven't been tested quite that way before. I was supposed to run a 5K this morning. When I got up to let the dog out- and saw the rest of my family sleeping every so soundly after getting up so very early yesterday morning and felt my legs walking the steps down to the kitchen I decided that I'd be skipping that 5K! Today I'm respecting my body's need for a little time to recover!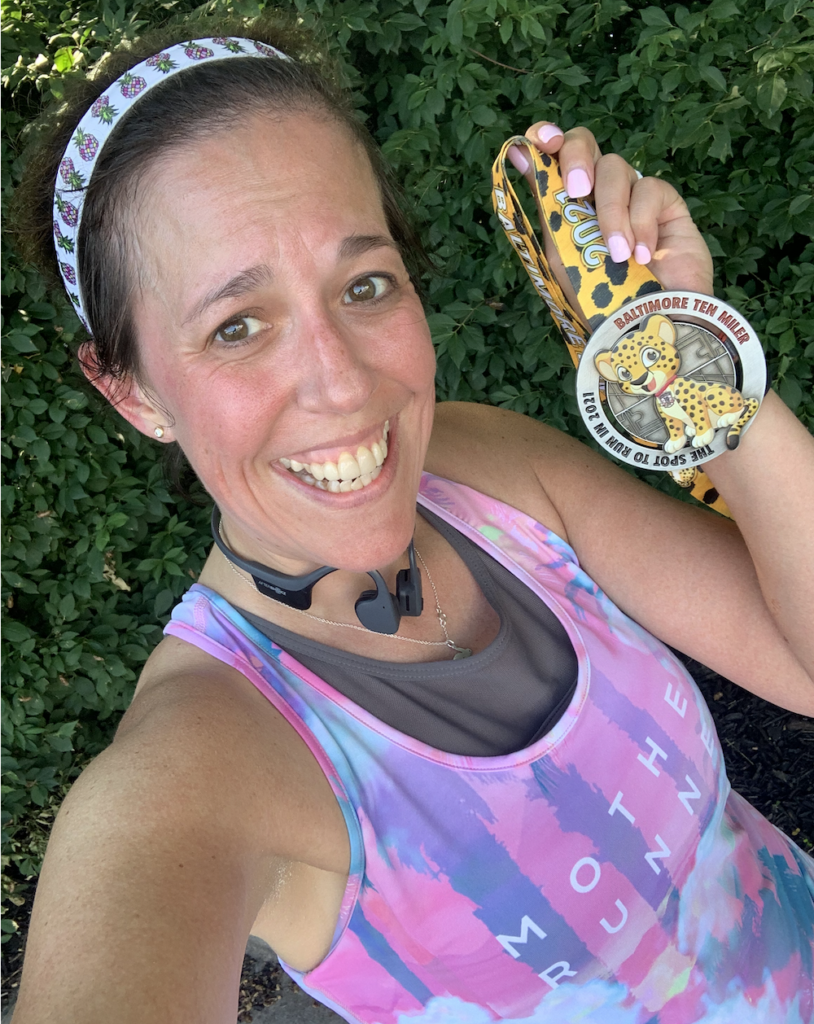 So am I glad I ran the race? Absolutely!! Not every race is going to be a PR. Not every course is going to be easy. Doing hard things makes us better and stronger! Oh and overall, I did way better than I expected when I looked at the results. And you know what?? I'd run this course again- just not today!