Benefits of Virtual Racing
I've written before and feel it even more now that running is just as much a mental sport as a physical activity. The weekend of May 3, 2020 was supposed to be my third Half Marathon. I was approximately three weeks into the training cycle when the realities of COVID 19 and racing being cancelled became real. I had two decisions keep training or coast for a bit. With a plethora of virtual racing opportunities popping up all over the place pushing me to keep running, sometimes even more miles than I had been running before the training part wasn't a problem. And honestly, running has been my release of all the pent up anxiety and stress of being home for the last two months. But the next mental hurdle I would have to circumvent was whether I could really just go out and run a Half Marathon by myself.
In the weeks leading up I didn't fully commit to running a Half Marathon on May 2nd or 3rd. But then some additional virtual half marathons popped up that weekend. There was the Brooklyn Half Marathon and the Rock n Roll Virtual Half Marathon. It was as though all the running gods were saying "run a damn half marathon this weekend." So that's exactly what I did.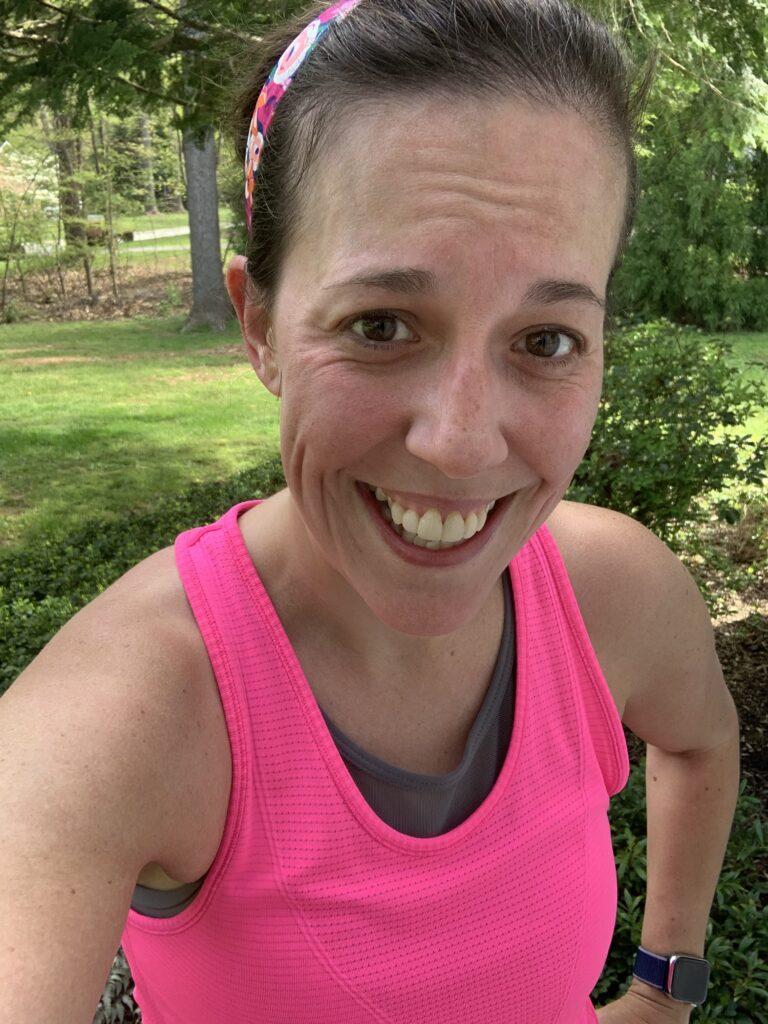 I set out the morning of May 2nd ready to run 13.1 miles. Knowing full well that I was physically capable as I had twice before, but wondering if I had the mental fortitude to run that distance with out the distraction of a race. I certainly didn't set out with the idea of setting a PR (but I did) I was just going to finish and close the chapter on that race. Many runners have had to determine how they would "bless and release" or close the chapter on a particular training cycle or race. Let it go?? Run the distance? The choice is personal. I chose to run the race.
As I was leaving the house that morning. My six year old remarked "are you really going to run 13 miles all by yourself?" Running gives you lots of time to think. As I run I think about things to write here (i.e. a letter to my HS running self), think about how the world has literally changed all around us, think about whether the boys will ever go back to school and what it will look like when they do. All that thinking certainly helps the miles pass by! But guess what, 13 miles all by yourself is still a lot!!
I did something I don't do that often during this run and I mixed up the route. Taking a road I hadn't before. In a race, unless you've cancelled studied the route or have run the same race before there are some surprises along the way. My surprise was a hill I had forgotten about at about mile 6. Ugh. I chugged up the hill and shortly later I had a ding on my watch with words of encouragement from my husband. I smiled and I kept going. A few more miles and another text. My update just under five miles to go. A few more miles and then videos of the boys "go Mommy go!" All of these words of encouragement kept me smiling and going! But then came the moment of truth I came to the end of a road at mile 10 and I had two options turn left and get 13.1 turn right and go home. Not going to lie, I thought about going home. But I turned left and kept going.
What did I learn on this half marathon run? 1) I'm mentally strong enough to keep pushing when I'm not racing against others in person; 2) the support of my family pushes me along; 3) this "crazy" running adventure isn't lost on the boys. As one of the reasons my six year old is proud of/loves me is that I can run 13.1 miles; 4) I can't wait for racing to be back but in the mean time virtual racing keeps me going!