Summer Reading Bucket List and Challenge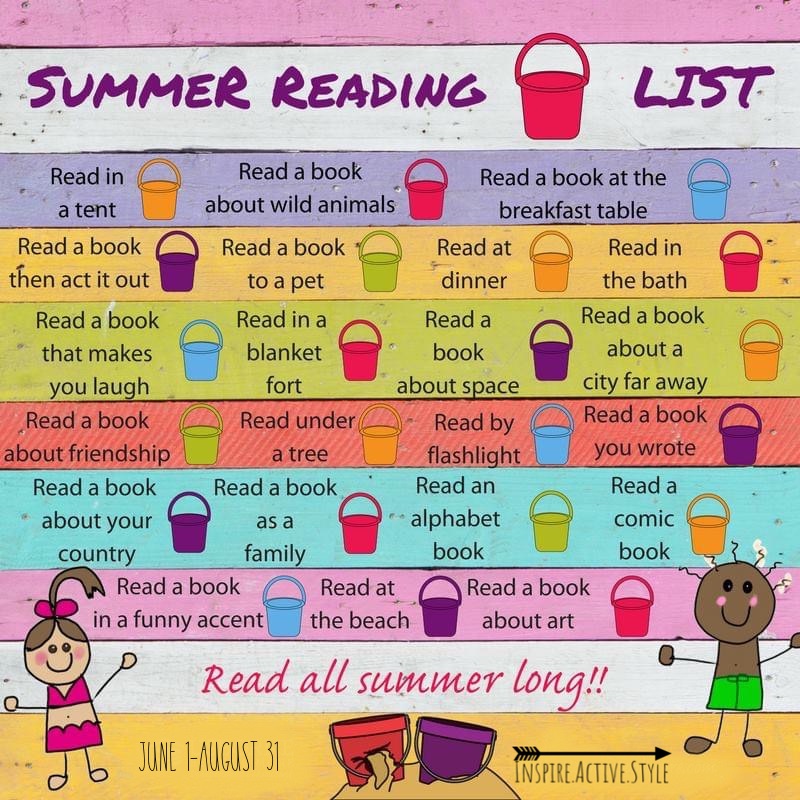 Years ago I created this Summer Reading Bucket List to do with the boys. I even collected books for the boys in each category and had them in a basket so we could check them all off the list. Recently, Carter asked if we could read in the bathtub again. He remembered! By read in the bathtub, what he actually meant was basically turn the soaking tub, that I never use into a fort. We filled it with blankets and actually read about book about a girl who blasts off into space in her bathtub. Very fitting, right?? So who am I kidding, I'm going to make a list of books that we are going to read for the various buckets. Here goes:
We can read any book in a tent.
Book about wild animals- Wild Kratts to the rescue! The boys love the Kratt brothers and have learned so much from them. So we will take a look at Wild Kratts, Wild Cats.
We can read any book at the breakfast table.
Read a book and act it out– The Who Would Win books have also been added to our summer reading list. I anticipate the boys acting out Who Would Win? Ultimate Dinosaur Rumble!
We can read any book to Ruby!
We can read any book at dinner.
Read in the bath- we will turn our bathtub into a submarine and read, The Magic School Bus Rides Again, Sink or Swim.
Read a book that makes you laugh– The Notebook of Doom Collection is sure to make you laugh. We are adding this collection to the mix this summer.
Read in a blanket fort- any book will do!
Read a book about space– Carter picked this one! The Magic School Bus Rides Again- Satellite Space Mission
Read a book about a city far away– Our plan is to read the rest of the Magic Treehouse series this summer. Dingoes at Dinnertime, Book 20 will take us to Australia!
Read a book about friendship– Ballpark Mysteries series is a family favorite and we are planning to read several of the books this summer. They explore the friendship of cousins and mysteries that happen at Major League Baseball parks all over the country.
We can read any book under a tree.- While any book will do we will go with Tops & Bottoms. This Caldecott Award winner, is sure to generate a chuckle or two and is full of life lessons.
We can also read any book by flashlight.
Read a book you wrote. Cue the boys to get writing so we can read their books later this summer. Something this might be fun to give them ideas to get started.
Read a book about your country– We have a couple ideas for this bucket. I survived the Battle of Gettysburg, 1863 and What Were the Twin Towers, a who HQ book.
We always seem to read as a family!
Read an alphabet book– Jackson is a huge fan of Acrostic Poems. He loves writing and creating them. Bow Tie Pasta Acrostic Poems will be a fun way to kick off camp mom so that we can then working on writing our very own poems as a follow up activity.
Read a comic book– Snoopy and the Peanuts are fan favorites in our house. So Snoopy Cowabunga it will be. This will double as a great book to read at the beach!
Read a book in a funny accent
Read at the beach- any book will do here!
Read a book about art– Maybe not quite about art- but how fun will it be to read Flat Stanley's Worldwide Adventures– Framed in France?
So much for not planning out the books. I had too much fun filling in the more specific buckets with ideas that the boys would enjoy. Maybe you kiddos will enjoy a book or two from our list. As for some of the buckets- they are low lying fruit, right? Read at breakfast or dinner…this happens a few times a week in our house. While we make the books go away so we can talk about our day, they would be just as happy to keep reading and eating. But it's possible that reading at the beach isn't a possibility for you. So maybe you create a beach scene at home. Play some ocean music, put on your bathing suits and lay out a blanket on the floor. Get creative and use your imagination. The point is to get reading no matter what or where and to make it fun!!
You know what, it's also key for your kiddos to see you read too. And by read, I don't mean a book to/for them, but rather a book that is for YOU!! Showing that reading is still important to you allows our children to see that reading can be a life long hobby! I've started carrying a "real" book with me to read when I'm subbing. Why? Reading is a part of nearly every grades day. If my class is having 20 minutes of reading time, I join them. Why?? They see grown ups read too…and enjoy it!
Looking for books for you?? Follow me on Goodreads. I'd love to follow you back to get some ideas to add to my to be read list that seems to keep growing!! Plus they have lots of great giveaways and challenges to push you to keep reading!! Or consider signing up for Book of the Month. I'm in full fledged obsessed mode with Book of the Month. I'm still borrowing books from the library to read on my Kindle, but I'm actually enjoying the concept of reading an actually book again. Plus it allows me to sit down with a book and the boys see me reading rather than thinking I'm playing on my device.
Summer reading usually means the opportunity for reading challenges and ways to track your reading. In my post (Reward at the End of the Week) I talked about how we became regulars at Barnes and Noble lately. Did you know that Barnes and Noble has their own summer reading challenge? Kids in grades 1-6 can earn a free book (from a pre-selected list) for completing this form. Read eight books between July 1 and August 31, complete the form and bring it to your participating Barnes and Noble. Be sure to also check out your local library to see what if any Summer reading club options/challenges they might have available. Our local library has a family challenge o we can track all of our reading. I love making it a family affair.
Shocker, I recently just found my original library card. I'm talking my first library card when I was growing up. I can remember the summer reading challenge and how you had to go and talk to the librarian about the book that you read. I can even remember the layout of the library. It's funny the things that you remember. As we are still in pandemic times to an extent much of the challenges are online. But the Barnes and Noble form does allow for a discussion about why it was your favorite book. As I'm typing this, I'm thinking of a way that the boys can keep track of the books that we read this summer and make a note about what they liked about a particular books that we read. Rather than just added it to the school summer reading log- really think about and reflect about the book after we finish it. The question is what does that look like? I'm thinking about getting Jackson and Carter each an old school Composition notebook. Carter can write a few words and draw a picture and Jackson can use it as a chance to do a little bit of writing- say 3-4 sentences about why he liked or didn't like the particular book!