Amazing time to join Zyia Active!
While I normally only share about running over here on this blog- Zyia Active is all that I wear to workout and for the last six months what I wear all of the time. I became a rep over a year ago and this special is too good not to share! While any time is a great time to join the Zyia family this month you are going to get even more bang for your buck. Let's take a look at what you get for the $295 cost:
First of all is your kit. There's a men's and women's sign up kit. We will first take a look at the women's kit as of September 9, 2020. But do not fret if your kit looks slightly different. Kits are continually updated to include the latest staple items that are not only popular but a great representation of the variety of products offered by Zyia Active.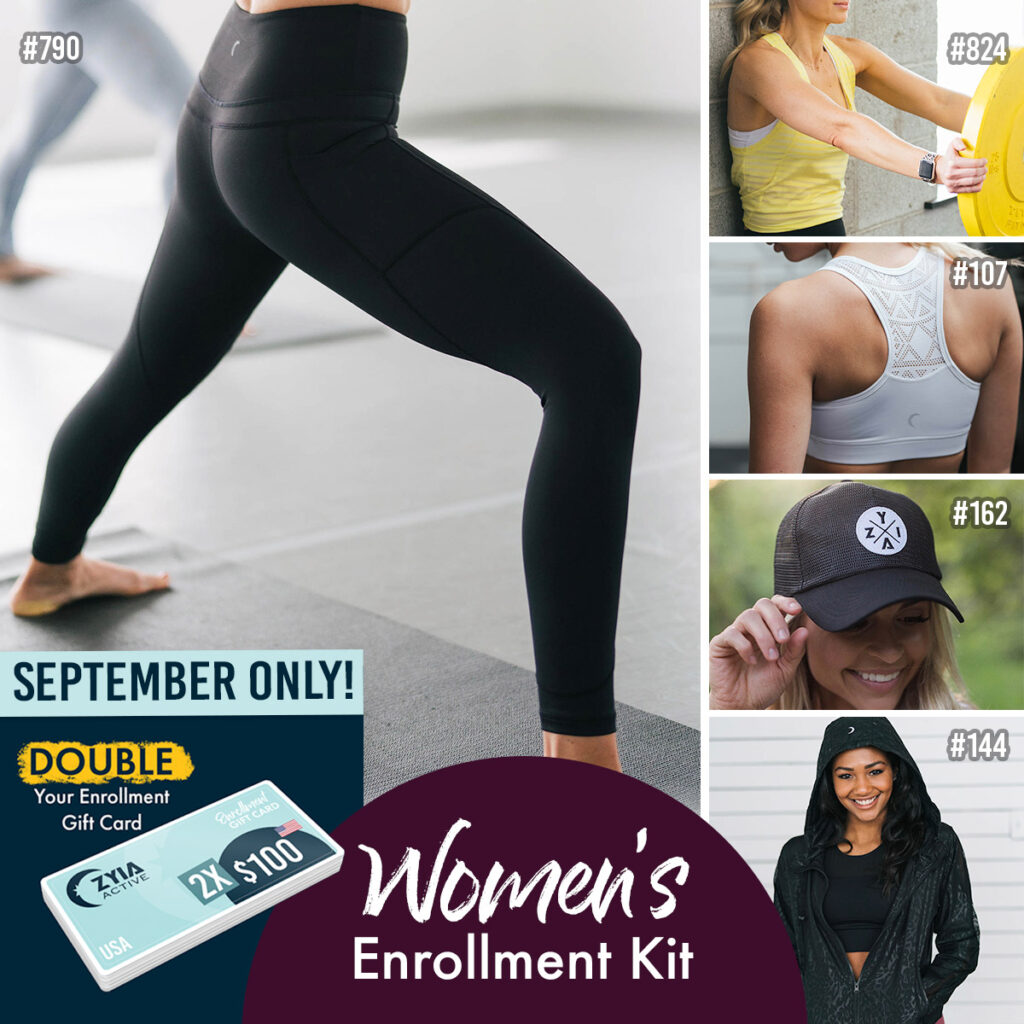 $50 Business Tools: Catalogs, Brochures, Order Forms, & Stickers
Two $100 Gift Cards
ZYIA-X Mesh Hat ($18 value)
White Bomber Bra ($31 value)
Lemon Nimbus Split Back Tank ($32 value)
Black Bomber Jacket ($69 value)
Black Pocket Light n Tight Hi-Rise 7/8 24″ ($65 value)
That's $215 in products plus another $200 in gift certificate for you to select the items of your choosing, and $50 worth of business tools for a total of $465. The cost to join is $295. So, let's say you see purchasing an enrollment kit as an amazing opportunity to build your own business- amazing this is an awesome deal making now an incredible time to join. But, let's just say you LOVE Zyia Active and you want to get more Zyia Active at the representative discount. Amazing, now is a great time to enroll because for $295 you are going to get $215 in amazing staple products and supplies along with another $200 of the PRODUCTS YOU WANT that you choose!! So you're coming out ahead. Maybe you build it into a business with the support of our AMAZING team or maybe you use this as a chance to shop at a discount and do some holiday shopping for friends and family.
Let's take a look to see what the Men's Enrollment Kit includes:
The Starter Kit Includes:
$50 Business Tools: Catalogs, Brochures, Order Forms, & Stickers
Two $100 Gift Cards
Men's Navy Reef Block Shorts ($45 value)
Men's Navy Performance Hoodie ($55 value)
Men's Red Versatility Short ($49 value)
Men's Black ZZZ Hat ($23 value)
Men's Navy Clubhouse Belt ($16 value)
Men's Navy Traveler Pant 31″ ($98 value)
For the $295 cost of the enrollment kit you are getting- $200 in gift certificates to select the items of your choosing; $286 in pre-selected, versatile products that give you a true sense of the depth of options from Zyia Active and $50 in business supplies. So that comes out to $536 in product and materials for $295. Again this is such an amazing value before even taking a look at the support you get if you are interested in building a business. I always say that even if you think you just want to sign up for the discount- at the very least host a party for yourself. Share products you love with your friends and family. You'll have the chance to earn back part of your initial investment all while also earning hostess rewards.
The next thing you get is support, guidance, and training from me and our amazing team!
If building a business if your desire, there are trainings, support and a fantastic community. Come check us out over on Instagram. You literally can make it what you will- you can shop at a discount or you can build a business- you decide! Whichever route you chose you are not alone!!
Questions?? Email me today! Ready to enroll? Join now!