Marathon Training Week 5- getting in a groove!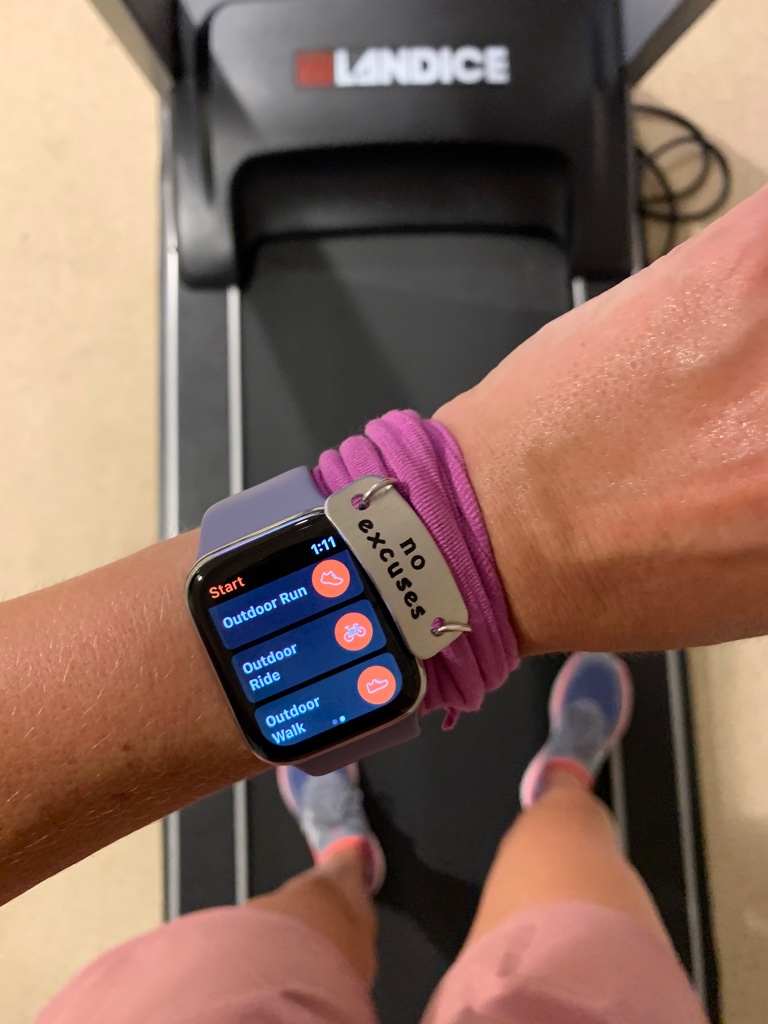 I'll say it until I'm blue in the face- having a training plan that is flexible is key for my mom life schedule!! This is the last week of "summer vacation" also known as the never ending spring break. So this is the last week for quite some time that I'm going to have any real flexibility in my day. That means getting up earlier to get my run in. It also means having to juggle my distances from one day to the next to get all my miles in. Having one key effort each week and knowing I can make the rest of the miles up any way I please keeps training fun and less stressful!!
The key effort for the week of August 24-August 30 was speed work and the total mileage goal was 28 miles. On the heels of the trail race last Sunday, I purposely planned to keep Monday light. While I would usually get my key effort in on Monday I pushed it to Tuesday this week.
Monday– August 24
All things considered for the day after feeling like I was getting chased through the woods for nearly 7 miles I feel good. I had originally penciled in 2 miles to kick off the week to keep my run streak going and to give my body a little bit of a break. Since I cut my half marathon to a 10K I didn't feel like I needed quite as much of a break. Still kept it light and the pace easy because I was a little bit sore. I have this reoccurring pain in my right hip that I'm constantly keeping an eye on. I ran 3 nice and easy miles on the treadmill to kick off the week.
Tuesday– August 25
Key effort run!! Speed work is still not necessarily my most favorite thing to do. It pushes me well outside of my comfort zone, but is SO CRUCIAL for form, drive and ultimately helps with overall pace. The key effort this week is 800X5. To this I added 1 mile warm up and at least one mile cool down. Additionally, I ran a 400 or a quarter of a mile in between each 800 (half a mile) to catch my breath. My goal for my 800s is 4 minutes. I've found that doing speed work on the treadmill gives me the most control to hit my target paces. All in all I finished up with 6 miles and felt great. The 800s are work but I'm feeling good with the effort!
Wednesday– August 26
I got outside today!! Again, I had penciled in three miles for the day but wound up doing four instead. I was feeling good. While the pace wasn't super fast it was still decent. For the last several weeks I've consciously been working on slowing down my pace and lowering my heart rate. Not every run is a race and "slower" runs are critical pieces to the training puzzle. Four miles with an average pace of 8:28 per mile works for me.
Thursday– August 27
Back on the treadmill. After a busy morning of crossing things off my to do list I didn't get to exercise until mid morning. My right hip and hamstring are feeling sore/tight. So before I ran I did about a half hour of yoga. This concentrated, focused stretching has proven to be most helpful when I find myself getting tight. Schedule called for four miles. I somehow turned that into 5.29. No idea why other than I was feeling good after warming up with yoga and trying to stretch out this last week of the month to meet a larger overall mileage goal.
Friday- August 28
We had a lengthy laundry list of items to do today. I knew we needed to leave the house by 8:30 AM (PS this is an hour later than we will have to leave for school), so I had to get my run in early to allow enough time to shower and get everyone ready. While the pacing and my watch were totally off for timing purposes, I got another five miles in and another episode of Bosch on Amazon Prime.
Saturday-August 29
It was a rainy and humid morning. While running in the rain doesn't scare me the humidity is not my friend. That said, and I'm not complaining about the treadmill because I love it (and anything is better than trail!- but I was getting a little bored with get on and run. Despite some glute and hip soreness I opted to push the envelop with a hill program. I've officially used the programs on the treadmill more in the last five months than in last 18 years combined. While the hills KICKED MY BUTT- it mixed up the run and kept me on my toes. I chose a 60 minute program. That equated to twenty 3 minute segments. Some were certainly easier than others. And the doubles at full incline and top speed left me sucking wind, but it also made me appreciate the recovery segments that much more.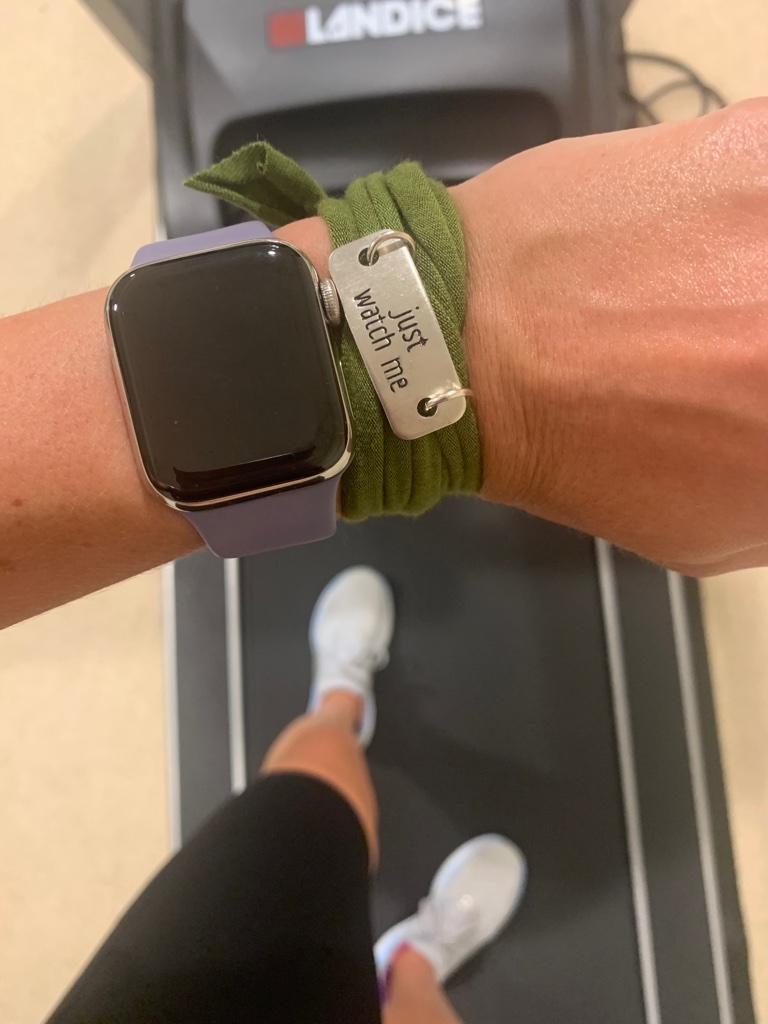 Sunday- August 30
Sunday, rest day. I joke. Today was my 100th consecutive day running (at least two miles each day, almost always more)!! When I started my streak back in May I would have never imagined that it reach trip digits. Now to see where it can go. Another big milestone was hitting 800 miles for the year!! I originally set a goal of running 1000 miles this year. COVID hit and my miles increased and it became clear that barring injury 1000 would be "easy" so I upped the goal to 1255 or 2020 KM. It will be a stretch but I'm feeling confident that I'll get there!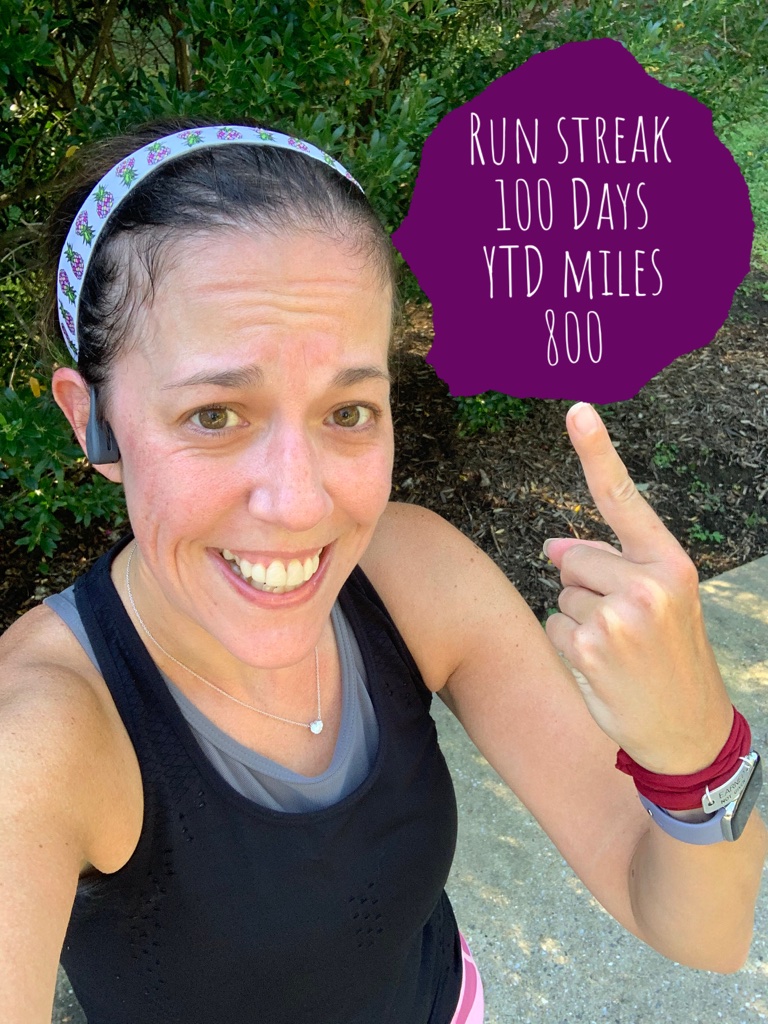 Subscribe to follow along on my journey to a marathon in 2020.
As a reminder- I run for those who can't. I was scheduled to run the NYC Marathon on November 1. Despite it being COVID Canceled I committed to do the training and to running a virtual 26.2. I run for my dad, who was diagnosed with early onset Alzheimer's several years ago. I run to raise awareness and important dollars to find a cure. Please visit my donation page for more information.