Planning your Princess Half Weekend

Last year I watched in awe as a group network marketing friends shared their experience at the Disney World Princess Half Marathon weekend. I was determined to run with them the following year, meaning February 2020. Translation later this week!! But if you are new to RunDisney like I was, the process was a little overwhelming. If you aren't familiar with the various RunDisney races they SELL OUT!! So for me this added to my want to race anxiety and to get registered and reserve a room early.
So what did I do?? I did what I thought made the most sense. I stalked the website for when hotel rooms would become available to make reservations. I learned you could make reservations by phone 499 days before for a room only. Score. So I called and reserved my room. I figured I was half way there. Easy, breezy.
June 4 was the magical day that registration for the Princess Half weekend opened. I sat down at my computer at the appointed time and you guessed it, I sat in the queue. My friend, sat in the queue. We texted with our anxiety. What if one of us got in and the other didn't?? After what literally seemed like forever I was able to complete my registration.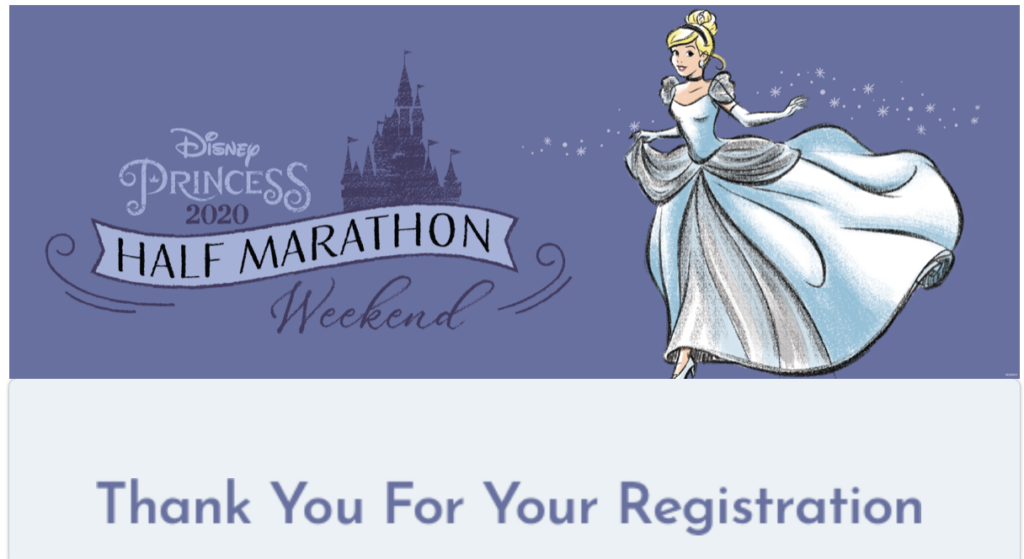 It all worked out right? I got registered for the race. I secured a room at a very good rate. I was able to add park tickets and photo pass and all of those things. But why did I give myself extra stress?? Well, because I didn't really know the system. I thought I knew but I didn't. So here's what you can learn from me and avoid the same stress.
What if I told you that you could secure your race bib for the 2021 Princess Half Marathon during the Half Marathon weekend THIS YEAR??! Say what?? Right, it really doesn't have to be as complicated as I made it out to be. So did you know that there are select Travel Agents that are registered with Disney? They basically have magical powers. Not only can they plan a fabulous Disney vacation for you and your family/friends, but they can also secure race bibs a year out. Or any time during that year before while supplies last. What does that mean?? That means that during the Princess Half Marathon Weekend an agent registered with Disney could call and register you for the race for next year. (Bib fee due in full at the time of booking) So if you are having some serious FOMO watching everyone run this year. Book now for 2021.
What else can they do?? They can also book a room, that can be turned into a package and any promotions that are announced later can be applied when applicable. ($200 deposit due at the time of booking) You also get all the perks of a Travel Agent, such as: guidance in planning, suggestions for schedule, making your dinner and Fast Pass Reservations and trouble shooting any problems that might come up. I know, I know, you can do it all on the internet by yourself. Believe me, I've done it…you know 3:00 AM while nursing a baby trying to make dining reservations for TEN PEOPLE. It's doable but again it's more stress for you. But if you prefer to do all your own reservations for meals and Fast Passes, etcetera that's okay too. The Travel Agent's services are there if you choose to utilize them but you aren't required to do so.
This sounds too good to be true- what does it cost??? There's no additional cost to you!! That's right. You don't pay any more and you get first rate service from a Disney Registered Travel Agent.
Who can I contact to plan my next trip??? Well, I'll be using my friend Meghan Campbell the next time for sure!! All this serious Mom Guilt about going to Disney without my family has me thinking hard about a Spring Break trip next year. You can find her over on Facebook or send her an email.
So learn from my stress, contact Meghan today to make the planning as Magical as the trip to Disney!