Baltimore 10 Miler Race Recap- June 2022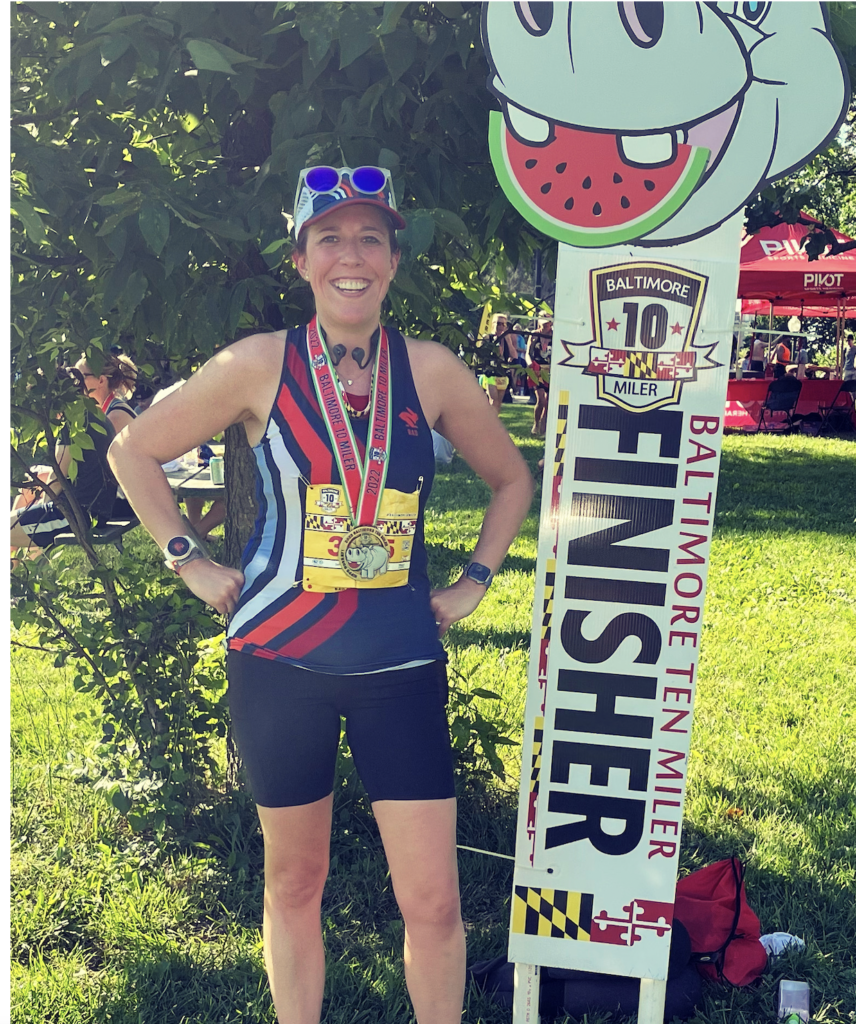 Interesting thing about the school year and my race schedule- I ran a race the Saturday after the first and the last week of school. Needless to say I was a bit more fresh for the first week of school than the last. Not to mention the fact that May 2022 was my lowest mileage month in more than two years. Between being busy at work and under the weather my routine was completely thrown off and I was totally inconsistent. So in hindsight, I really had a lot of nerve showing up to run 10 miles completely undertrained. But I can do hard things!! And it's a privilege to be able to run!!
Up until the day before I wasn't really sure I was going to race. It meant getting everyone up at 5:00 a.m. to head downtown. The weather had been super hot and humid. Well, and there was the thought in the back of mind that I haven't run 10 miles or more since November- so in more than 6 months. All this to say it was really a game time decision. The weather looked like it wasn't going to be unbearable and I really felt the need to get another race under my belt testing my new nutrition before October. Now that it's summer months here in Maryland there will not be many more racing opportunities. While I hope to run the Charles Street 12 in September as it's one of my favorites, we may have a conflict. As I'm typing, I'm realizing this might really be my only race before my next marathon. Eek.
Let's get to it. The race started at 7:00 a.m. Temperatures were moderate considering it was the beginning of June. I ate a good breakfast. Planned out my Maurten nutrition and all things considered was excited to have a race opportunity. Mentally, I knew I should shoot for a 9 minute a mile pace given the lack of consistency over the last month and the fact that I haven't run this far in half a year. Spoiler alert- I went out too hard. I'm notorious for going out too hard. If I could just train myself to negative splits…I'll keep trying. I was feeling good and the sun hadn't really come up yet. Had this been a 10K I would have been golden. First six mile splits 8:17, 8:37, 8:28, 8:31, 8:41 and 8:53. Solid, right? I certainly didn't think I had that many 8 minute miles in the tank. When I transitioned to marathon training my focus was more on going the distance and so my paces were closer to 9/9:30 a mile. After mile 6 the sun was blazing and my heart rate was high. There was no way around it, I just couldn't bring my heart rate down to a place that was appropriate. So I dialed the pace way down. The other piece to this puzzle was the fact that I knew there were about 300 feet of elevation gain in the last three miles or so. Ugh- high heart rate, overheated and elevation gain. Quite the trifecta. But I also knew that I could certainly finish the race. So much of running is mental. So many of my conversations with the boys lately have been about the fact that you need to listen to your body and there might come a time that I can't finish a race because it's dangerous to do so. That there are professional runners who don't finish races from time to time. Racing and running have been full of life lessons not only for myself but for the boys. So back to the last third of the race. It was rough. I'm truly a cooler weather runner and these June races really aren't in my wheelhouse. Hearing about some other athletes having serious health consequences after running too hard has me a little worried. Fingers crossed that it's not unseasonably warm in Chicago in October.
Every race I've run I've felt like the time mattered. Even when I said it didn't, the time always mattered to me. I mentally beat myself up for the last 6 or so miles in NYC because I was so disappointed I wasn't go sub 4 hours. In hindsight, this is completely crazy. 4:18:55 seconds for the NYC marathon- my first in person marathon is something to be proud about and I've come to realize that over the last few months. Hoping I can take this new mindset to Chicago with me.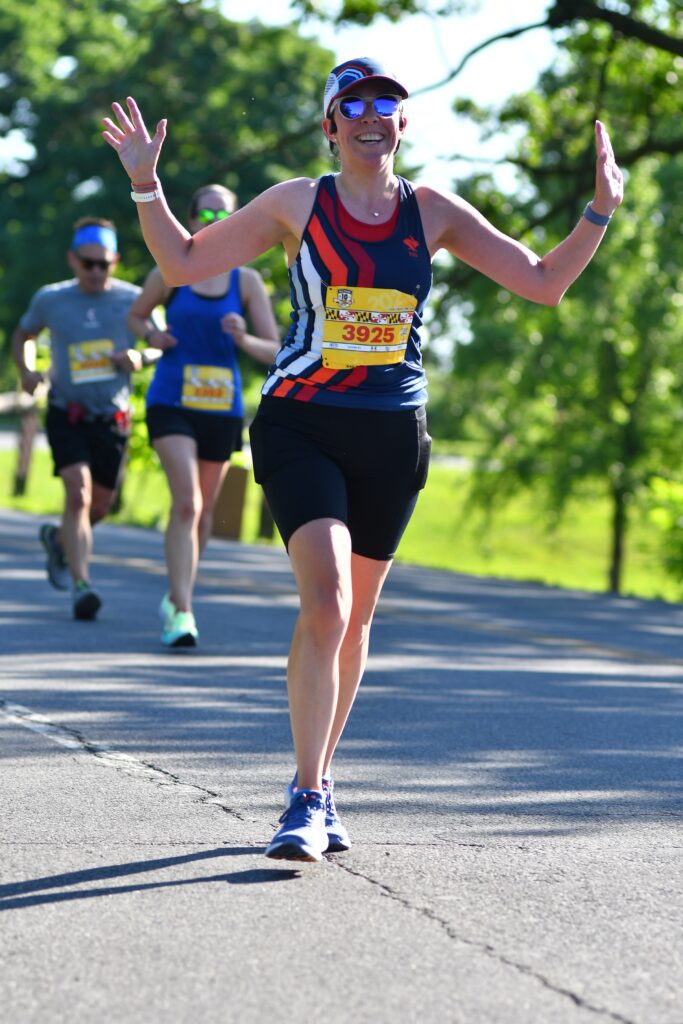 Back to yesterday- I'm always chasing a goal or a PR. Yesterday, it just didn't matter. Yesterday was all about a chance to race and finishing. Having that change in mindset really helped with the latter part of the race when I would have probably overdone it to come in at a particular time. But instead, I listened to my body- still got it done and crossed the finish line smiling with my husband and boys cheering me in. They didn't care what time was on the clock. Quite honestly the opposite. Every time I texted updates to my husband, his response was "take your time." So we both knew I wasn't chasing a PR and would just be happy with a finish.
Lessons learned- training matters- but I have a good base that allowed me to pull out a ten mile run after months of running shorter distances. Maurten will be my nutrition for Chicago. Now I need to incorporate the drink component the day before and morning of into my training. Nothing new on race day!! The other question is how many races am I going to do a year. Things have changed since I started racing. Back to work. Busier schedule. I don't have quite as much time to commit to training and it's a huge time commitment for my family. Chicago will be my next big training effort starting in July. I have about 5 more weeks to keep my running casual before I need to get my head in the game and body in gear to go the distance! Then who knows. Maybe I'll pick two races a year. Maybe I'll just be a casual runner and add the Peloton bike into rotation. Time will tell. Either way- moving my body for 30 minutes a day will be part of the equation- it's just a question of how that movement will happen. I feel truly fortunate to be able to exercise and the opportunities that racing has brought along the way. The running community is special. I'm happy to be a part of it!
Stay tuned- marathon training starts the week of July 18. I think running a marathon is a bit like having a child- you kind of block out the hard and difficult parts and only remember the highlights.